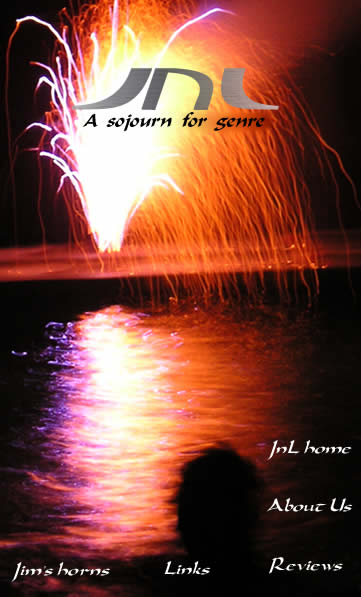 The Naked Lady
engraving



My Woodwind Horns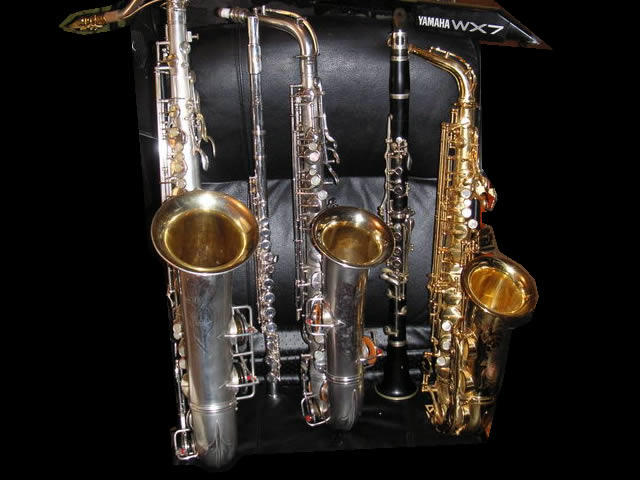 From left to right: 1945 Conn "Naked Lady" tenor sax, 1970's Gemeinhardt M2 flute, 1921 Conn "New Wonder" C melody sax (also known as a C tenor,) Evette Buffet ebony Bb clarinet, Yamaha YAS-62 alto sax. Across the top is my WX7 wind controller, but it is hard to see.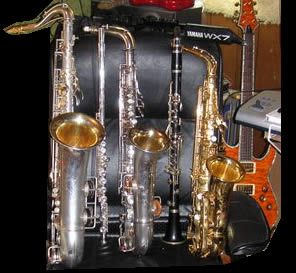 Until Dec 2005, all I had was the alto and the flute. The clarinet and the C melody needed work, and the tenor was in need of a complete overhaul. The "Naked Lady" tenor was a gift from Lisa's uncle Woody. He is a jazz era musician, life-long teacher, and collector. It came in a shattered case (mostly splinters) with broken keys, broken springs, rotted pads, and the silver plate was badly worn and peeling off. I decided to do the work myself. I read a lot and bought the tools and parts online. I silver soldered the broken keys, replaced the bad and broken springs, took the worst of the keywork down to the brass, buffed and replated it. Also replated some worn places on the body. Of course this would not have been possible without the tools and experience gained from making EyeCandy. The parts, tools and information from Music Medic were just as necessary. Their service is outstanding and they stand behind what they sell. I learned enough to do the repairs on the C melody and the clarinet, also. Look for new tunes in 2006 featuring these instruments.
Here's the tenor while it was torn down.